This week has been an emotional rollercoaster for me -- well every week is an emotional rollercoaster for me -- I blame it on the Stars (I'm a dictionary definition of a Gemini).
My Co-Worker suggested that I make a list of:
5 Things that I like about myself
5 Things that are my CORE being (that I can't change)
5 Things that I can change about myself
So far I've only started one of these lists...the one with the 5 things I can change about myself. I don't know why I had an easier time with that one out of the three but I did. I probably could go on & on with things I would like to change but I have my 5 and my goal is to work on those ... then I can make another list of 5 if need be.
I hope this weekend to relax, read & spend time poolside and maybe even go out ONE night this weekend and dance and drink and have a good time.
I'm linking up with
Joelle
for HAPPY HOUR. I really like this link-up & Joelle's blog.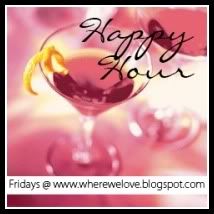 Today I'm choosing another Summertime Drink:


3 tablespoons grenadine

3 tablespoons Cointreau

2 tablespoons brandy

1 3/4 cups champagne

Raspberries, apples, or other seasonal fruit
Directions
Fill a small ice bucket halfway with ice. Pour grenadine, Cointreau, brandy, and champagne over ice. Stir gently, and ladle punch into 2 wide-mouthed stemmed glasses. Garnish punch with raspberries, apples, or any other fruit in season.
I hope you have a GREAT weekend!
~Trish